Xtreme Acoustics New XAMXGA4- 4 Channel mixer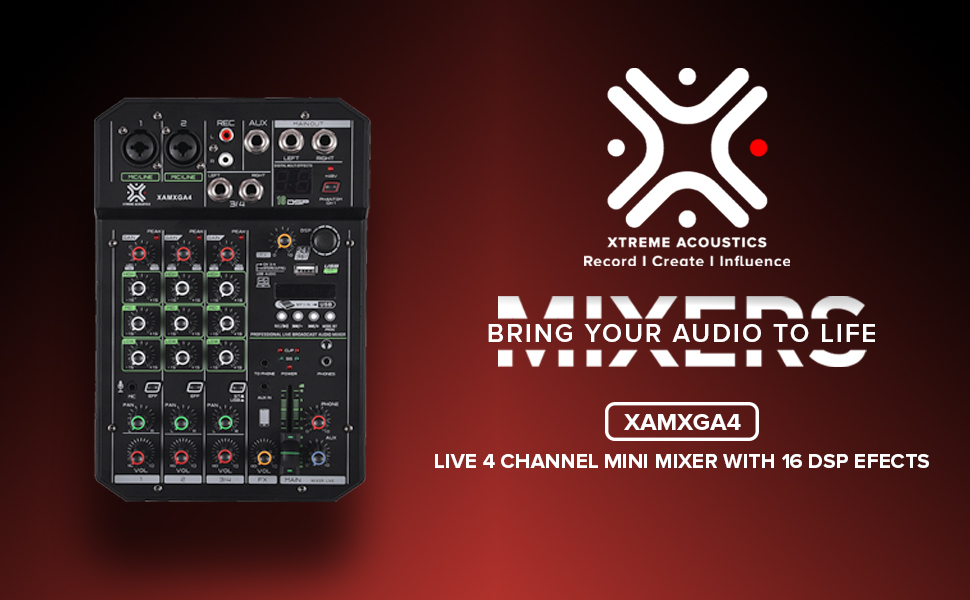 New XAMXGA4- live 4 Channel mixer is a revolutionary audio mixer with 16 DSP effects for live streaming and performances. The mixer engaged with input gain, high and low sound adjustment. The mixer is small and lightweight can be directly connected to the PC's USB to power supply directly. Can be operated by USB connection to a computer, which eliminates the hassle of using an external adapter, you can use mobile power, USB or AC/DC adapter to power supply too.
Note:- the mixer is mainly used for the live streaming, it can not record the multiple tracks at once. For that, an audio interface is the only way to go. Mixer takes multiple incoming signals and mixes them together thus resulting in one stereo track.
XAMXGA4- a cutting edge technology 4 channel mixer for Karaoke on Starmaker/ Smule apps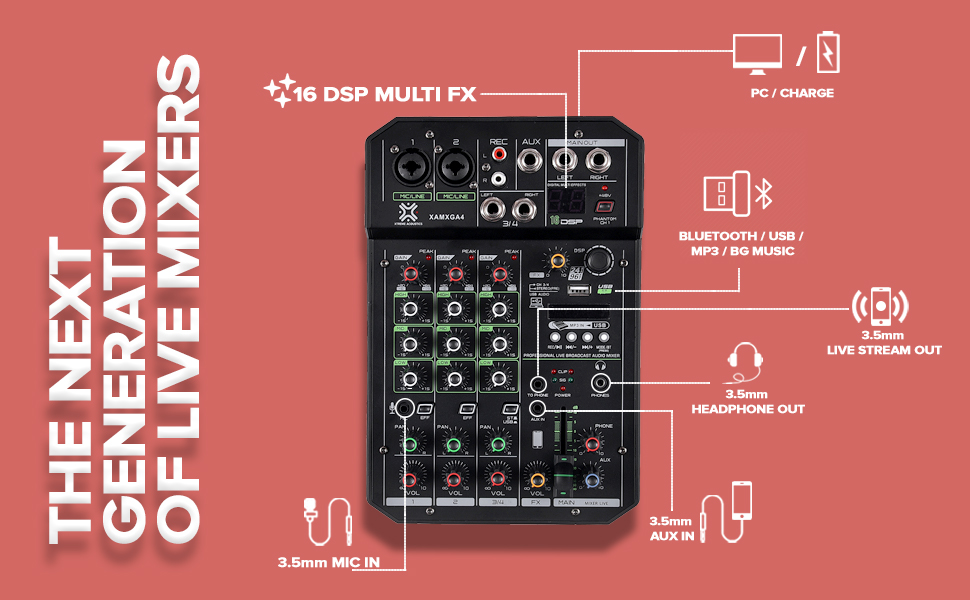 Product Features
Loaded with tons of features like:-
4 Channel Live mixing console, ideal for Karaoke

16 DSP effects

24Bit/ 96 khz sampling rate

+48 V Phantom power on Channel 1

3.5mm microphone interface on Channel 1

Bluetooth function/ AUX-IN/MP3 player/ PEN DRIVE for background music

Live broadcast function on smartphones/ laptop

High definition headphone output port

PC/ laptop audio recording
You can also do the audio recording on to your PC/ laptop by selecting 'MIX USB' and the same can also be monitored from your mixer by pressing on-to the ST/USB button. The volume/ PAN setting of the output can be adjusted by the knobs present on the Channel 3/4.
Monitor out through speakers/ AUX-OUT
Everything that you can do LIVE!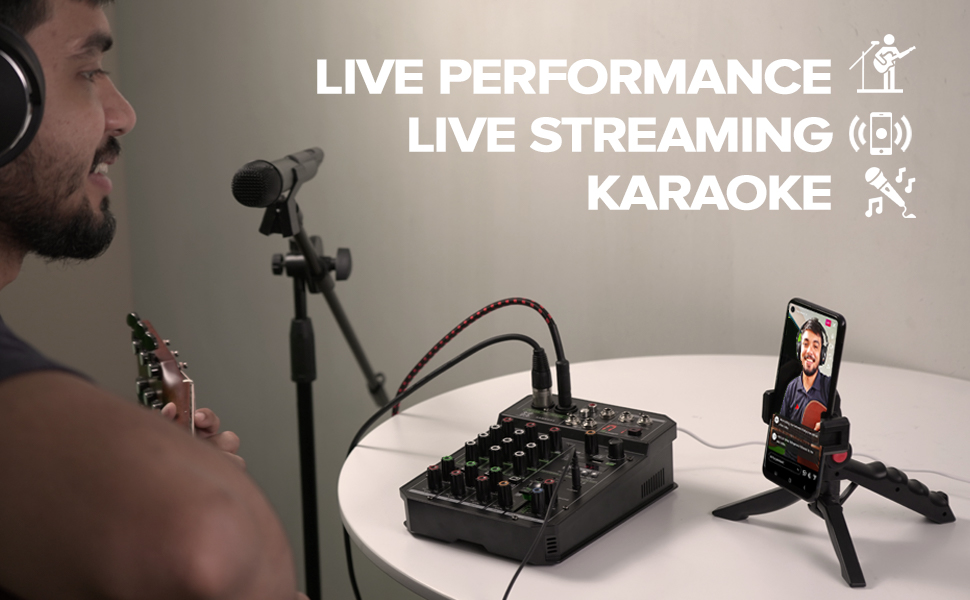 It serves many purposes like home music production, live streaming, karaoke song cover and live performances.
HOW TO GIVE BACKGROUND MUSIC?
Click on the MODE/BT so that bLUE is reflecting on to the display.

To give background music, you can connect your phone to the mixer by enabling the bluetooth on your phone. Select 'MIX MP3-BT' and press the ST/USB button present on the 3/4 Channel of the mixer.

The song setting can be done by forward/ rewind button or can even be paused.

You can control the volume and the PAN settings by rotating the knobs on Channel 3/4.

You can also give BGM through the USB/ Pen drive/ Aux In- port as given on the front portion of the mixer.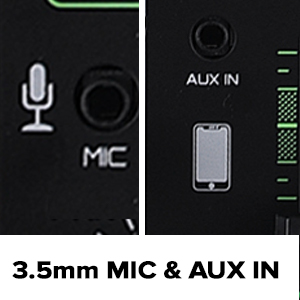 XLR to 3.5mm jack/ Background music
3.5mm 5V microphone interface

Connect your mobile phone to the mixer through bluetooth to give background music or through USB drive.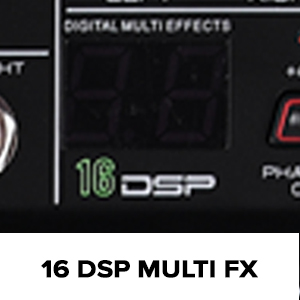 Multieffects
16 DSP digital multi-effects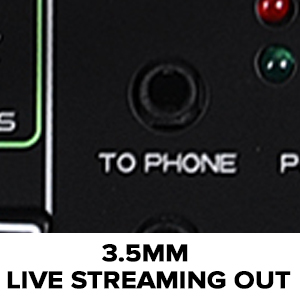 Go live from your mobile
The signal can be transmitted between the mixer and the mobile phone, and live broadcast in real-time.
GA4 a multi function effects mixing console is a new design revolutionary 4 channels USB audio mixer that has live broadcast function on smartphones/ laptop, 16 real DSP effect, built in 48V phantom power, supports Bluetooth connection and MP3 player function. It serves many purposes like home music production, live streaming, Karaoke song cover and live performances.
Click here to check out the experience videos on our YouTube Channel.